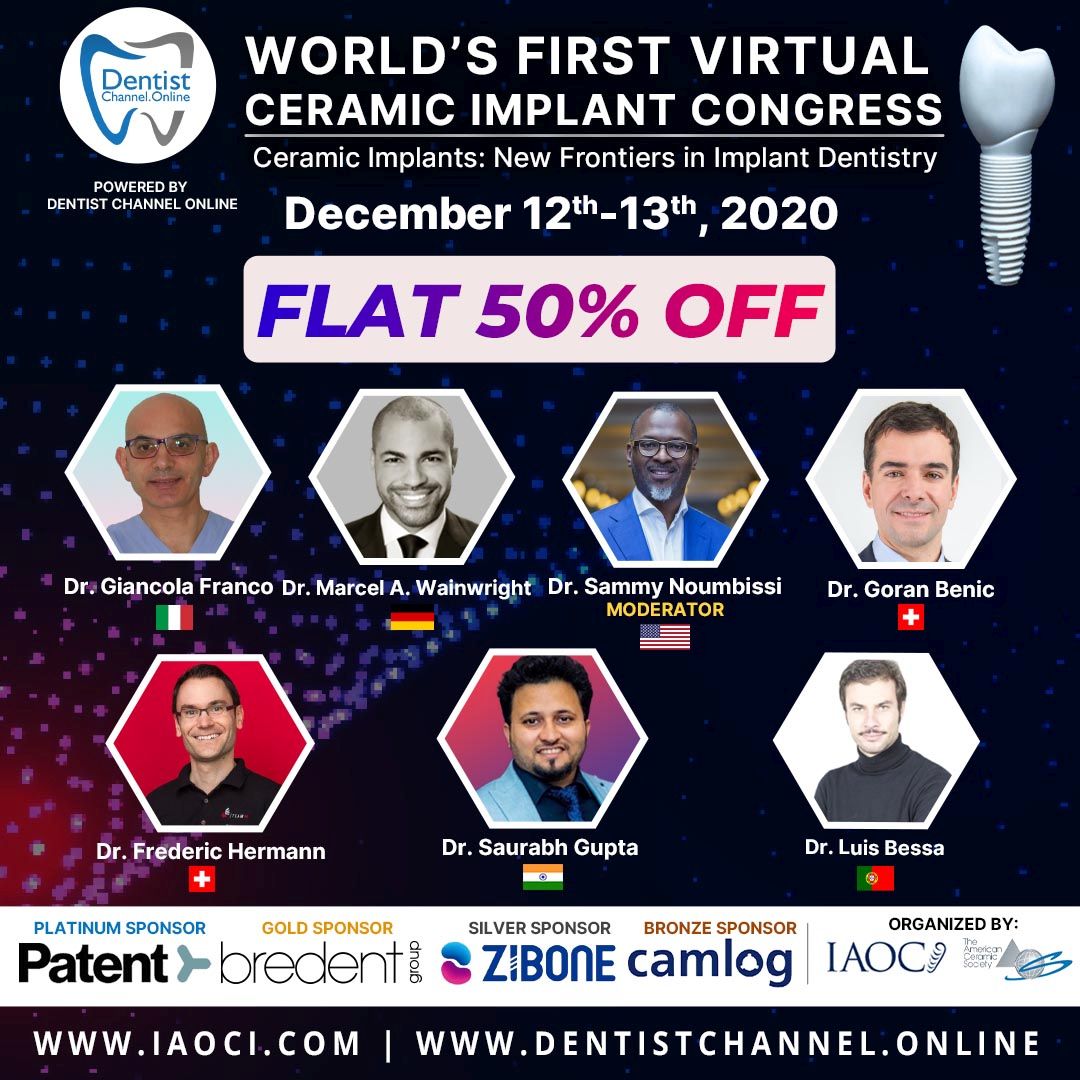 Date
Dec 12 - 13 2020
Expired!
World's first virtual ceramic implant congress
Date:
12-12-2020 to
13-12-2020
Location:
Florida
Venue:
LIVE stream
Registration End Date
12-12-2020
REGISTRATIONS CHARGES ARE $120 $60 ONLY
OFFICIALLY ANNOUNCING THE LINE-UP FOR THE WORLD'S FIRST VIRTUAL CERAMIC IMPLANT CONGRESS
THEME- CERAMIC IMPLANTS: NEW FRONTIERS IN IMPLANT DENTISTRY
Get ready to witness a line-up of star speakers for the biggest virtual event on Ceramic Implantology scheduled to take place on December 12-13, 2020 with Scientific Sessions, Panel Discussions and a lot more! With Speakers from 6 Different Countries, we're sure this would be a one of its kind events you must attend before you bid adieu to 2020.
WHAT ALL IS INCLUDED IN THE REGISTRATION CHARGES?
Entry to the Live Scientific Sessions & Panel Discussions
Internationally Accredited Certificate of Participation with CPD Points
A Copy of Recorded Sessions for a Duration of 30 Days
THE CONGRESS HAS BEEN ORGANZIED BY:
The International Academy of Ceramic Implantology & the American Ceramic Society
The American Society of Ceramic Implantology & the Zirconia Implant Research Group
THIS EVENT IS MANAGED & PROMOTED BY:
SO, WHAT ARE YOU WAITING FOR??? REGISTER AS A DELEGATE FOR THE WORLD'S FIRST VIRTUAL CERAMIC IMPLANT EXPO TODAY!!
REGISTRATIONS CHARGES ARE $120 $60 ONLY
Dear Doctor,
Patients are forever asking their healthcare providers for less invasive healthcare procedures and solutions. The number of requests from patients for ceramic implants is fast growing and dentists whether or not they are currently placing metal alloy dental implants and who seek to add another level of service in their implant practice need to register and attend this virtual two-day congress on ceramic dental implants.
This event is powered by Dentist Media Online Channel under the patronage of IAOCI.
DR. GIANCOLA FRANCO
CERAMIC PIEZO- IMPLANTOLOGY: THE EASY WAY
FOR BETTER RESULTS
About Dr. GIANCOLA FRANCO, DDS – Surgeon and Dentist
Born in Italy 18th June 1963, graduated from the University of Perugia in Medicine and Surgery in 1991 and qualified for Dentistry.
Oriented towards minimally invasive surgery, operates mainly risk patients with piezosurgery, regenerative medicine (PRF and stem cells) and ceramic implants.
He organized the 1st Italian Congress of Ceramic Implantology (Pescara 2016) and the 1st International Master of Ceramic Implantology in (Rome 2020).
Speaker at various congresses on Biologic-driven implantology.
He submitted the patent for a New Zirconia Implant without threads.
Author of : "CERAMIC IMPLANTS the winning challenge".
He currently directs the European Clinic for Ceramic Implantology at the Domus Medica of the Republic of San Marino, practices freelance at the Nuova Villa Claudia in Rome and is a consultant for some dental practices.
Contacts : Email: info@ceramic-implantology.com Mob: +39 3880913583
DR. MED. DENT. MARCEL WAINWRIGHT
BIOLOGICAL PROTOCOL FOR CERAMIC IMPLANTS
About Dr. Marcel A. Wainwright
1989-1994 Studium der Zahnheilkunde an der RWTH Aachen
1996 Promotion summa cum laude
1996-2006 Niederlassung in GP Uzelli-Wainwright, Gelsenkirchen (D)
2006-2016 in GP Dentalspecialists in Düsseldorf-Kaiserswerth (D)
2005-2016 Gründung des Ausbildungszentrums Kaiserswerth für Implantologie und Ultraschallchirurgie
2009 Ernennung zum Professor für Ultraschallchirurgie und Implantologie an der staatlichen Universität Sevilla
2010 Goldmedaille der Ukrainischen Gesellschaft für Zahn-, Mund- und Kieferheilkunde
August 2016-2018: Inhaber und Leiter Mirala Clinic Stockholm, Konsiliarzahnarzt der Swiss Biohealth Clinic, Kreuzlingen CH
2014-2017: Leiter von Kursen an der Uni Düsseldorf im Bereich Anatomie und Neuroanatomie (Prof. em. Mai).
Seit 2018 Implantologe und Chirurg bei Dentalspirit, Zürich
2018: CEO der Kingsmen Group GmbH und Entwickler von Hylodent™
2018-2020 Konsiliarzahnarzt bei Firstbiodent Düsseldorf
Zertifizierter Implantologe (DGI), Mitglied der DGI, DGZI, DGZMK, ICOI, AAID, IAOCI, DGKZ u.a.
Active Member der ESCD (European Society for Cosmetic Dentistry)
Fellow der International Academy for Dental and Facial Esthetics New York (IADFE)
Vize Präsident der IAUSI (International Academy for Ultrasonic Surgery and Implantology),
Member der TKW Research Group (Trödhan, Kurrek, Wainwright)
Mitentwickler des Intralifts™ und zahlreicher ultraschallbasierter OP-Verfahren
Studiengruppenleiter der DGZI im Fach Ultraschallchirurgie (bis 2016)
Begleitzahnarzt des Dental Olympic Team in Peking 2008 und London 2012.
Country President der DIFNE (Dental International Filler and Neurotoxin Education)
German Ambassador der EACIM (European Association for Ceramic Implantology)
Co-Entwickler des Gumlift© Verfahrens und -instrumente nach Padilla/Wainwright
DR. SAMMY NOUMBISSI
CERAMIC IMPLANTOLOGY: PAST, PRESENT AND THE FUTURE
Abstract:
With more than a decade of experience in ceramic implantology Dr. Sammy Noumbissi will be gracing the World's First Virtual Ceramic Implant Congress with his experience, expertise and skills. Dr. Noumbissi in the opening ceremony will be addressing on the future of Metal-free implantology, the recent trends in implantology and the Technological Advancements in Ceramic Dental Implantology.
Dr. Noumbissi obtained his Doctorate in Dental Surgery from Howard University in Washington DC. He was then selected to attend the prestigious Loma Linda University Graduate Program in Implant Dentistry. There he received three years of formal training in dental implantology which culminated with a certificate in Implant Dentistry and a Master of Science degree in Implant Surgery. He is a researcher, author and has published book chapters and articles in implant dentistry and ceramic implants in peer reviewed dental journals.
He is a visiting professor at the University of Milan, the University of Chiety-Pescara in Italy and visiting researcher in the materials department at INSA Lyon in France. Dr. Noumbissi is the founder and current president of the International Academy of Ceramic Implantology which is an independent association focused on metal free and ceramic implantology.
He is a fellow and Ambassador at the Clean Implant Foundation whose mission is to assess production quality and purity of commercially available dental implant surfaces. Dr. Noumbissi has been practicing and educating dentists on metal free implantology since 2009. His practice is in Silver Spring, Maryland USA.
DR. MED. DENT GORAN BENIC
BONE AUGMENTATION AT CERAMIC IMPLANTS
From 2005 he trained as a specialist in reconstructive dentistry at the Clinic for Crown and Bridge Prosthetics, Partial Prosthetics and Dental Materials Science at the University of Zurich's Center for Dentistry under the direction of Prof. Dr. Christoph Hämmerle and completed his doctorate with the corresponding federal specialist title.
A scholarship from the International Team of Implantology (ITI) then enabled him to attend the Harvard School of Dental Medicine in Boston (USA) to further his research on the clinical course of bone regeneration in implantology. After his return to the University of Zurich, he extended his academic and clinical curriculum until he received his venia legendi as a private lecturer in oral implantology and reconstructive dentistry, and additionally obtained the SSO certificate for oral implantology.
Dr. Goran Benic practices as a senior physician and private lecturer at the Center for Dentistry of the University of Zurich, and is valued nationally and internationally as a clinician with great expertise in reconstructive dentistry, oral implantology and related fields.
His clinical experience covers a broad spectrum of simple to complex cases, taking into account all clinical options and, if necessary, in collaboration with other specialists from a proven network of experienced colleagues.
DR. FREDERIC HERMANN
TWO-PIECE CERAMIC IMPLANTS IN SCIENCE & PRACTICE
Dental implantology has developed rapidly in recent years. Surgical techniques have been refined and materials have optimized. Patients are, more and more, requesting for highly aesthetic or metal-free restorations. Ceramic implants are the best options to meet their needs. Thanks to the development in the last years, ceramic implants come close to the usual standard of titanium implants. As option, CERALOG® ceramic implants will be presented, especially the two-piece ceramic implants and their reversibly screw-retained prosthetic components.
• completed his undergraduate studies at the university at Leipzig/Germany in 2002, where he received his Doctor of Medical Dentistry in 2005.
• was Partner in a Dental Clinic in Germany where he did an intensive training and continuing education in bone regenerative surgery, implantology and periodontics from 2003-2007 and is a Certified Expert in Implantology within the German Association for Oral Implantology and the ICOI.
• launched his own multidisciplinary Dental Clinic (www.team15.ch) in Zug/Switzerland in 2007.
• performed a Master "Clinical Dental CAD/CAM" in 2015, afterwards received the expert certificate in implantology (WBA) of the swiss society for implantology SGI.
• is involved as a lecturer in the continuing DGI education program as well as international lectures and publications on bone regenerative surgery, implantology and digital dentistry.
Prof. Saurabh Gupta BDS, MDS
DIGITAL DENTISTRY - MODERN FRONTIER EQUIPPED WITH VERSATILITY FOR AN EFFECTIVE CERAMIC IMPLANT PLACEMENT
He lectures nationally and internationally, he is Education Director/ Board Member of International Academy of Ceramic Implantology, which is the first academy in USA dedicated to metal free implantology. He is an active member of ZIRG (Zirconia Implant Research Group), whose objectives are to lead and orient research in metal free implantology and support young and established clinicians in clinical and scientific research. He is also serving the "Bioceramic Division" of "The American Ceramic Society", Ohio, US. He is involved in Research and Development projects at Indian Institute of Science (IISc), Bangalore. He is also a fellow and ambassador for Cleanimplant Foundation, Germany, whose mission is to assess production quality and cleanliness of commercially available implant surface. He is in the advisory board of "The Journal of Oral Ceramic Implantology"(ISSN 2293-7897) and also board member for many international journals. Apart from this, he is also the clinical specialist for COHO Biotechnology, Taiwan. At present, he is involved in lot of research studies on dental implant materials and digital dentistry.
DR. LUIS BESSA
DIGITAL WORKFLOW IN FULL MOUTH REHABILITATION WITH MONOBLOC CERAMIC IMPLANTS
Dr Luis Bessa has graduated from ISCS-N (Instituto Superior de Ciências da Saúde do Norte) in 2008. Since surgery has always been his passion, he has continued his education in UFRJ (Federal University of Rio de Janeiro), receiving his degree of specialist in Oral Surgery and Maxilofacial Surgery, and a title of postgraduation in Orthognatic Surgery .
During the residence Dr Luis had the opportunity to work in a hospital environment with all the others specialist in medicine what gives him a comprehensive understanding of general health and the body as a all.
Education is also one of Dr Luis Bessa interests. Apart from participating as a speaker in several international conferences since 2012, he has been the head of the Maxillofacial Surgery course in University Fernando Pessoa in 2013, and he is currently an invited professor for Implant several Pos graduate programs at Portuguese and foreign universities .
Dr Luis Bessa has been working in his own practice in Porto, NORTH CLINIC, Portugal .
As an Oral and MAX FAC surgeon and have a strong focus on minimal invasive ridge reconstruction with autologous tissues as well as high end aesthetic dentistry.
He is strongly focused on a biological approach and in the use of zr implants