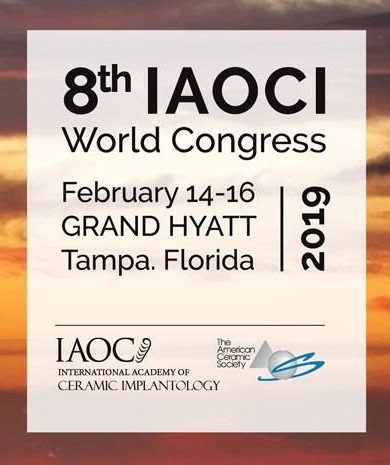 Dear Friends and Colleagues,
On behalf of the IAOCI, it's a great pleasure and honor to welcome you to the International Academy of Ceramic Implantology 8th Annual World Congress (IAOCI 2019) which will be taking place in Tampa, Florida in the USA, from February 14th to 17th 2019. The theme this year is: "New Frontiers in Metal Free Implant Dentistry"
The IAOCI World Congress is an international meeting with a first-rate scientific program delivered by top international, regional and national speakers. The academy through this yearly congress promotes and delivers innovative and forward-thinking ideas through workshops, lectures and symposia that enhance the understanding of and the rationale for ceramic implants. This is an event where scientists, clinicians, students and manufacturers gather to have access to, learn from and exchange with the largest community of international experts in dental bioceramics science and technology. Furthermore this year's congress is exceptional in that we are immensely proud and honored to be endorsed by the prestigious American Ceramic Society which is the world's largest and most established association in the field of ceramics and bioceramics.
No other event will offer a more comprehensive and innovative series of workshops and lectures dedicated to safe, predictable, aesthetic and metal free ceramic implantology. The distinguished speakers from all over the world will be addressing topics such as the role of implant materials in peri-implant health, zirconia as an implant and implantable material, mechanism of osseointegration of ceramic implants, the latest advancements in zirconia implant design and engineering and much more!
IAOCI's 8th World Congress' mission is to provide the attendees with an in-depth science-based program along with clinical evidence on the viability and success of metal free oral implantology. The Congress will address all contemporary concepts and philosophies related to the applications of bioceramics in implant dentistry.
Participants will gain an understanding of:
Full Arch and Full Mouth Reconstructions on Zirconia Implants
Treatment Planning and Outcomes: Two-piece vs One-piece Design
Surface modification of Zirconia Bioceramics
Osseointegration of Zirconia versus Titanium Implants
Soft Tissue Stability Around Zirconia Implants
Bacteriology around Zirconia Implants versus Titanium Implants
Innovations in Ceramic Implantology
The role of thrombocytes aggregates in bone remodeling and wound healing
Management of clinical complications
Please join us at the Grand Hyatt Hotel in Tampa, Florida for what will be a unique and total immersion into bioceramics and metal free materials for implant rehabilitation.
Sammy Noumbissi, DDS, MS
President